Dr. Loosen Graacher Himmelreich Riesling GG Alte Reben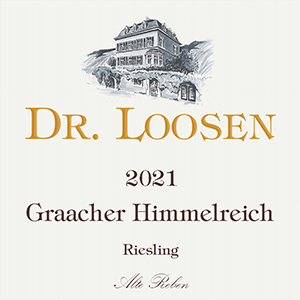 A heavenly, full-bodied dry Riesling with forceful minerality — from 100-year-old vines grown in the blue slate soil of Graach.
Graach is a small village in the Mosel valley. It's steep slate slopes produce wines that combine elegance with rustic strength. Grosses Gewächs (GG) is the designation for an estate's best dry wine from a Grosse Lage (grand cru) vineyard. This limited-production wine was fermented with indigenous yeasts and kept in the barrel, on the full lees, for a year before bottling. The extended maturation time allows the wine to develop greater texture and a deeper natural harmony.